Advantages of using Market Data
You will have at your disposal at all times privileged information that compares the historical data of your accommodation with that of the surrounding market, with the competitive advantage that this entails for decision making.
Summary of your market
Know the exact size of your market (competitors in your immediate area with the same characteristics as your accommodation).
Main metrics of your accommodation.
Map with all your Airbnb competitors.
Occupancy and market history.
Evolution of the average daily rate (ADR).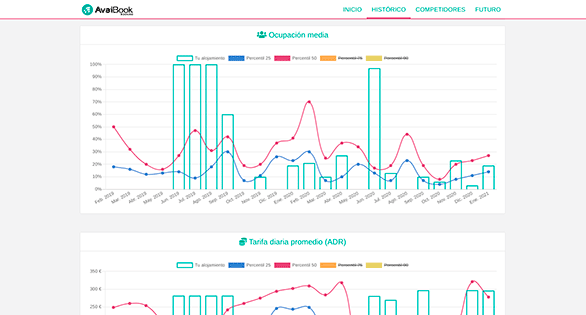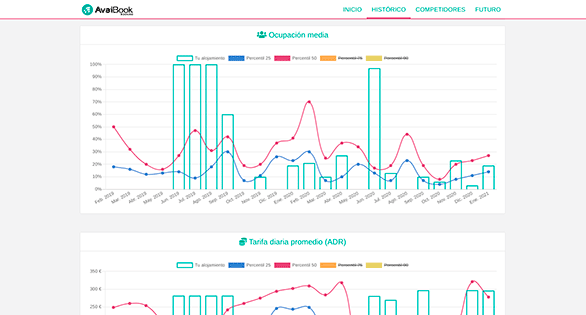 Competitors
Get to know your direct competitors on Airbnb and access their main information, so you can sell them.
Sort by occupancy ranking, ADR or revenue.
Access the public listings of your competitors.
Study your competitors' rates, cancellation policies, ratings or content.
Future and price recommendations
Know the future demand of your market in real time.
Know the occupancy of your market for the coming months.
Study the average rates of available and booked accommodation.
Days with the best opportunity to optimise your sales.
Increase your revenue with our rate recommender.
Smart pricing to help you in your more aggressive or conservative decisions.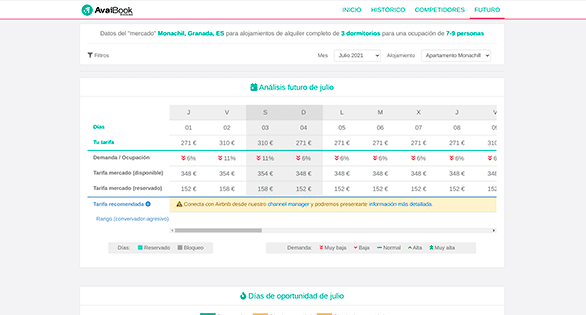 Market Data AvaiBook
We offer you the key tool to gain profitability in your accommodations.
You will find it included in our PRO plan along with other functionalities to make your work easier.
Frequently asked questions
Market Data is a market research and analysis tool for holiday rental owners and managers. With it you will be able to manage your accommodations in a more agile and simple way, helping you to make more precise decisions about your prices and thus obtaining higher profits.
2
What information can I see?
The main KPIs of your accommodations such as occupancy, ADR, revenue, market size, etc..
Information about the evolution of your occupancy and average daily rate (ADR).
Study of your market data against your most direct competition.
Map and list of your main competitors.
Data on future trends in your market.
Recommended rates for your accommodation.
Analysis of demand and occupancy in your markets.
Days of sales opportunity.
3
Where do you get the information from?
The information you will find in Market Data is the result of
combining the information of your accommodations in AvaiBook together with the enriched data provided by our technology partner AirDNA
, which is a world leader in vacation rental data and analysis, tracking daily more than 10 million listings from 120,000 markets worldwide on Airbnb, Vrbo and more.
4
How can I sign up for it?
It is included in the
PRO Plan
. In addition, all AvaiBook customers can activate a 1 month free trial.
5
Are there any conditions of use?
To get the most out of Market Data you will need to connect your listing with Airbnb through our
channel manager
. AvaiBook is an Airbnb
Preferred Partner
.