Which are the 5 biggest mistakes when setting the price of your vacation rental property? Everyone knows that setting prices, specially in the tourist industry, is not easy at all. Thats why we want to help by explaining to you the main issues you should avoid:
5 MISTAKES WHEN SETTING YOUR PRICES
1- To establish your prices based on your competitor's
We are starting with a really serious mistake. Your competitor has a similar accommodation to yours, even close to where you are, but yours has some extras or it's a little larger, then you check their prices and set yours just adding a small amount to it.
Keep in mind that an apartment/villa/cottage…is composed of two parts:
– The product itself (rooms, furniture, location, extras…)
– The service (that is YOU). The behaviour with clients, how you make them feel, your skills and predisposition to help and solve their problems…in short, the EMOTIONAL VALUE you provide, the ability to give them a whole experience and not just a place to stay.
All of that has to be considered, you are unique, so your price must be unique as well.
2- Not knowing your costs
You don't start building the house from the roof down. Not knowing your costs is a serious risk towards losing lots of money.
Fixed and variable expenses must be clear before setting your prices so once you know that, you are able to find your margin (profit). You might have a higher price than your competitors, but your profits are lower because your costs are eating them up.
3- Randomly lower your prices in order to get more bookings
A price war is a greatly dangerous war. Do you really want to attract those kinds of clients who just seek for low prices and promotions? From AvaiBook we highly recommend you to aim for the strategy of creating value.
Your price represents what your vacation rental is worth considering that customers will find something they can't find anywhere else, so don't throw all of that work to the garbage just to get some extra bookings.
4) Not having dynamic prices
We've learned that we shouldn't change our prices randomly, but, does that mean that they're static forever? Of course not. It's a good idea to modify the price depending on season (high/low), special times of the years such as Christmas or Easter, or even during the weekends.
Why? Simple reason: those changes are explained by the variation on demand, not by the need of getting more bookings whatever the cost.
Besides, you may be interested in varying the price depending on whether the reservation comes from a portal (Booking, Expedia, HomeAway…) or your own website. You can easily do that from our board.
5) Giving something "for free"
Avoid that word. Nothing is free. If you want to give something without a cost, whatever the reason is, set and tell the real price and then, explain the reason why that service has no price (a special promotion, a good client…)
That way, you are showing the real value of what you are offering (often, something free is seeing as poor quality), and what's more, you make feel the clients who are getting it, special (you achieve in the difficult work of client loyalty.
We hope these pieces of advice can be useful. From AvaiBook we not only work on the technical side but also want to help you to improve your business day by day.
Let's finish this article with a magnificent quote from John Harrison about the art of pricing. Do you agree?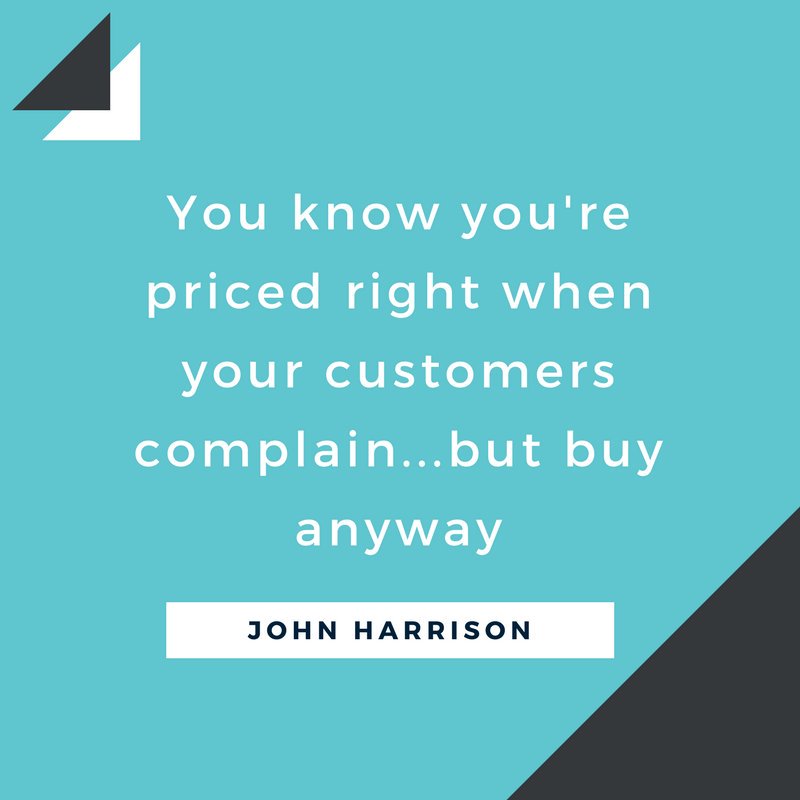 These and many other vacation rental tips and tricks every month in our blog. Your business will be thankful that you read them. 😉